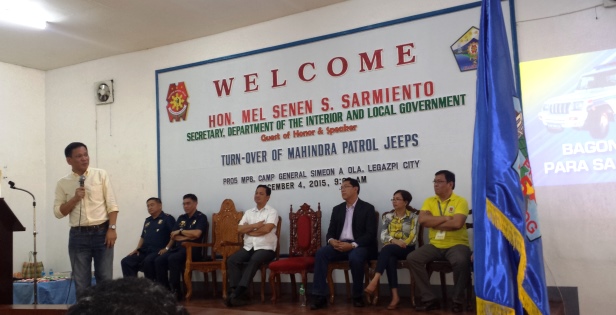 Gathered for the distribution and turnover of PNP Patrol Jeeps for the provinces of Camarines Norte, Catanduanes and Masbate, the DILG V family welcomed Interior and Local Government Secretary Mel Sarmiento at PRO V Camp General Simeon Ola, Legazpi City on December 4, 2015.
In simple ceremonies, Secretary Sarmiento distributed 12 patrol jeeps to the municipalities of Camarines Norte, 11 for Catanduanes and 20 for Masbate as part of the transformation program of the Philippine National Police. The jeeps were personally received by the Local Chief Executives together with the respective Chiefs of Police. In his keynote message, Secretary Sarmiento said that the members of the DILG as well as the local officials are all leaders and as leaders, it is everyone's obligation not only to address the problems of the day but to lay down the foundation for the next generation of Filipinos.
The patrol jeeps for the municipalities in the provinces of Albay, Sorsogon and Camarines Sur were distributed earlier by former DILG Secretary Mar Roxas.
Prior to the distribution of the patrol jeeps, Secretary Sarmiento met with the mayors from the three provinces. He asked the mayors "How can DILG be of service to you?" He listened to all mayors and gave endorsement to facilitate their requests. Likewise, he met separately with the NAPOLCOM, BFP, BJMP and the DILG family and discussed the direction of the Department for 2016.
Specifically for the DILG Local Government sector family, Secretary Sarmiento emphasized that the DILG is the driver of community development and not merely as monitors of LGU compliance. He believes that once the DILG develops all communities the country will surely prosper. He envisions in the near future like what he experienced in other developed countries for the city and municipal councils to serve not only as legislators but as planning unit of the LGU and the local chief executive as the economic manager. But he said everything must be needs-based. He said that it is time to shift from tactical to strategic and long term planning looking beyond the three-year term of local officials. For the Bottom-up Budgeting, he said that in the identification of projects, there must be a cost-benefit analysis in order to efficiently meet the needs of the people in the community.
Also present during the event to welcome and joined Secretary Sarmiento were Albay Governor Joey Salceda, Legazpi City Mayor Noel Rosal and PC Supt Wilben Mayor, PNP spokesperson, representing PNP Chief Supt Ricardo Marquez, Camarines Norte Acting Governor Jonah Pimentel, Congresswoman Catherine Reyes of the 1st District of Camarines Norte and Congressman Narciso Bravo of the 1st District of Masbate. – (Planning Officer III Ma. Grace Joy U. Tango)